Carbon Steel IBR Pipes
CS IBR Pipes, Carbon Steel IBR Boiler Pipe, IBR Carbon Steel Pipe, IBR Approved CS SMLS Pipes, IBR Approved Carbon Steel Pipes, Carbon Steel IBR Pipe Manufacturers, Carbon Steel IBR Approved Pipe, Carbon Steel IBR Pipe Supplier in Mumbai, India.
Carbon Steel IBR Seamless Pipes, Carbon Steel IBR Pipes Suppliers, Carbon Steel IBR Boiler Tubes, CS IBR Pipes Stockist, Carbon Steel IBR Welded Pipe, CS IBR EFW Pipe, Carbon Steel IBR Tubes, Low Temperature Carbon Steel IBR Pipes, CS IBR Approved Pipes Manufacturer in India.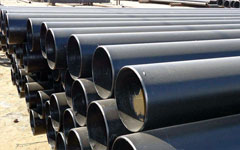 We manufactured these Carbon Steel IBR Pipes using the modern machines and investigate the qualities. These pipes are offered in a variety of thicknesses, sizes, and specifications to meet the needs of the customers. IBR carbon steel pipes are carbon steel pipes that conform to these regulations and may be used in boilers and pressure vessels. These pipes are built to withstand high temperatures and pressures, making them perfect for use in steam boilers, heat exchangers and other similar applications.
Across stress-induced scenarios, the pipes offer exceptional corrosion and oxidation resistance capabilities. The Carbon Steel IBR Pipes have exceptional mechanical and strength qualities. The IBR-approved carbon steel seamless pipe is produced when hot steel billets are passed through extruded metal to form the grade in the right dimensions. Comparing these pipes to other pipe types in this grade reveals that they are stronger and more capable of carrying weight. These IBR carbon steel boiler pipes used in various application industries such as petrochemicals, oil and gas, shipbuilding, nuclear power plants, fertilizer mills, chemical industries, desalination, water treatment.
Specification of Carbon Steel IBR Pipes
IBR Pipes Size :
1/2"NB TO 24"NB IN
Materials :
Carbon Steel
Schedule :
SCH20, SCH30, SCH40, STD, SCH60, SCH80, SCH120, SCH140, SCH160, XXS
Length :
Cut length, Fix length, Single Random, Double Random & Custom Length
End :
Plain End, Beveled End, Treaded
Type :
IBR Carbon steel Seamless Pipes | IBR Carbon steel Welded Pipes | IBR Carbon steel ERW Pipes | IBR Carbon steel LSAW Pipes
Other Types of Carbon Steel IBR Pipes
| | | | |
| --- | --- | --- | --- |
| » | Carbon Steel IBR Pipes Exporter In India | » | Carbon Steel IBR Pipe Manufacturer In Mumbai |
| » | Carbon Steel IBR Customized Pipes | » | Carbon Steel IBR LSAW Pipe |
| » | IBR Approved Carbon Steel Pipes Stockist | » | Carbon Steel IBR Industrial Pipe |
| » | IBR Approved CS Seamless Pipes | » | Carbon Steel IBR Approved Cold Drawn SMLS Pipe |
| » | Carbon Steel IBR SCH 40 Seamless Pipe | » | IBR Carbon Steel SAW Pipe |
| » | Carbon Steel IBR Tubing | » | IBR Approved Carbon Steel Boiler Pipe |
| » | Carbon Steel IBR Tubes Supplier | » | Carbon Steel SCH 20 16 inch IBR Seamless Pipe |
| » | Carbon Steel IBR Pipes Stockholder | » | Carbon Steel IBR Pipe Manufacturers in India |
| » | Carbon Steel IBR ERW Tubing | » | IBR Approved Carbon Steel EFW Pipes |
| » | CS IBR Approved Boiler Tube | » | CS IBR Welded Pipe Supplier |
| » | Carbon Steel IBR Seamless Tubes | » | Carbon Steel IBR Thick Wall Seamless Pipe |
| » | Carbon Steel IBR Approved Pipe Supplier In India | » | CS IBR Approved ERW Pipes Wholesaler |
| » | LTCS ASTM A333 GR 6 Seamless IBR Pipes | » | Carbon Steel IBR Pipes Distributor |