Carbon Steel IBR Flanges
CS IBR Flanges, CS IBR Slip On Flange, Carbon Steel IBR Plate Flange, Carbon Steel IBR BLFF Flanges,IBR Carbon Steel Flange, IBR Approved Carbon Steel Flanges, CS IBR Approved Flange, Carbon Steel IBR Pipe Flange, Carbon Steel IBR Flat Face Flanges, IBR Carbon Steel Flanges Supplier in Mumbai, India.
Carbon Steel IBR Weld Neck Flanges, ASME B16.5 LTCS IBR Raised Face Flanges, CS IBR Socket Weld Flange, Carbon Steel IBR Forged Flange, Carbon Steel IBR Flange Manufacturers, Carbon Steel IBR Flanges Suppliers, Low Temperature Carbon Steel IBR Flanges, Carbon Steel IBR Approved Flanges Manufacturer in India.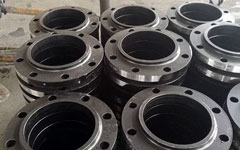 Rajendra Industrial Corporation is one of the leading IBR Approved Carbon Steel Flanges Supplier and Manufacturer in Mumbai, India. These Flanges have been designed under national and international industry rules using high-grade raw materials and advanced technology. We offer these Caron Steel IBR Flanges in a customized bridle range in different thicknesses, specifications, sizes and special materials.
These are widely in demand in chemistry, heat processing, petrochemicals, and other industries, and these clamps are specially designed for high temperature applications. These flanges can be used in high temperature and high pressure environments. They are available in variety such as weld neck, Deck flange, lap joint etc. The flanges are available in different pressure ratings. These manufacturers can use different standards such as API, AISI, BS, ASTM, ASME, ANSI, DIN, JIS, MSSP or even NACE in the production of these flanges.
Specification of Carbon Steel IBR Flanges
Specification :
ASTM A105, ASTM A350, ASTM A694
Size :
1/2" to 48" (NPS)
Materials :
Carbon Steel
Standards :
ANSI/ASME B16.5, B16.47 Series A & B, B16.48, BS4504, BS 10, EN-1092, DIN, ANSI Flanges, ASME Flanges, BS Flanges, DIN Flanges, EN Flanges, GOST Flange, ASME/ANSI B16.5/16.36/16.47A/16.47B, MSS S44, ISO70051, JISB2220, BS1560-3.1, API7S-15, API7S-43, API605, EN1092
Pressure Rating ANSI :
150#, 300#, 600#, 900#, 1500#, 2500#
Design Standards :
Indian Boiler Regulations (IBR): IBR 1950, IBR 2017, etc.
Temperature Range :
Carbon steel flanges are suitable for a wide temperature range, typically from -29°C (-20°F) to 425°C (800°F) depending on the material grade.
Test Certificates :
Hydrostatic Testing Non-Destructive Testing (NDT) such as ultrasonic testing, radiographic testing, etc. IBR certification for compliance with Indian Boiler Regulations.
Connect Type/ Flange Face Type :
Raised Face (RF), Ring Type Joint (RTJ), Flat Face (FF)
Other Types of Carbon Steel IBR Flanges
»
CS IBR Flanges Supplier
»
IBR Approved Carbon Steel Flanges Stockist
»
CS IBR Forged Flanges Wholesaler
»
Carbon Steel IBR Approved BLRF Flange
»
Carbon Steel IBR Threaded Flanges
»
Carbon Steel IBR Flanges Stockist In India
»
Carbon Steel IBR Approved SORF Flanges
»
IBR Approved CS Flat Face Flanges
»
CS IBR Flange
»
Carbon Steel IBR Approved Expander Flanges
»
Carbon Steel IBR Approved Screwed Flanges
»
Carbon Steel IBR Approved Reducing Flanges
»
ASTM A350 LTCS IBR Approved SWRF Flange
»
Carbon Steel IBR Ring Type Joint Flanges
»
PN 16 Carbon Steel IBR Flanges Stockholder
»
Carbon Steel IBR Flange Distributor
»
Carbon Steel IBR Large Diameter Flanges
»
ASTM A105 CS IBR Plate Flanges
»
ANSI B16.36 Carbon Steel IBR Orifice Flange
»
IBR Carbon Steel Weldo Flanges
»
IBR CS Tongue & Groove Flanges
»
Carbon Steel IBR Approved Spades Ring Spacers Flanges
»
Carbon Steel IBR flanges Manufacturer In Mumbai
»
Carbon Steel IBR Approved Pipe Flanges
»
IBR Approved CS Puddle Flanges Exporter
»
Carbon Steel IBR Approved Flanges Facing Type & Finish
»
IBR Carbon Steel Nipo Flanges
»
Carbon Steel IBR Long Weld Neck Flanges
»
IBR Approved CS Spectacle Blind Flanges Stockists
»
IBR Carbon Steel Male & Female Flanges
»
Carbon Steel IBR Nipoflange
»
ANSI B16.5 Carbon Steel IBR Flange
»
CS IBR Approved High Hub Blind Flanges
»
Carbon Steel IBR Raised Face WNRF Flange