16Mo3 Pipes
16Mo3 Industrial Pipes, Alloy Steel 16Mo3 Welded Pipes, 16Mo3 Seamless Pipes, DIN 1.5415 Pipes, UNS K11562 Pipes Manufacturer, CrMo 16Mo3 EFW Pipes Suppliers in Mumbai, India.
Chromium-Molybdenum 16Mo3 ERW Pipes, Cr-Mo 16Mo3 Round Pipes, 16Mo3 Chromium Molybdenum Steel Pipes Stockist, Chrome Moly 16Mo3 Pipes Exporter In India
Manufacturer of 16Mo3 Steel Electric Fusion Welded Pipes Distributor, 16Mo3 CrMo Steel Electric Resistance Welded Pipes, 16Mo3 EN 10216-2 Steel Pipes.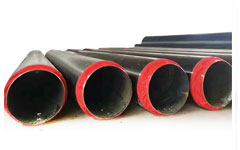 Rajendra Industrial Corporation is a noteworthy manufacturer if 16Mo3 Pipes which is made by using best quality raw materials in compliance by means of international quality norms. These 16Mo3 Seamless Steel Pipes are as well familiar for high tensile strength, accurate dimensions, corrosion resistance, and enhanced durability. The presented 16Mo3 Welded Steel Pipes are resilient to rust and for that reason, it ensures to last for an extensive period of time.
The addition of molybdenum not only improves pitting corrosion resistance but also significantly enhances creep strength at elevated temperatures. The chromium improves high-temperature resistance, hydrogen attack, and graphitization. Besides this, fine finish and high strength raise the demand of our presented16Mo3 DIN 17175 Pipes in the industry. We manufacture EN 10216-2 16Mo3 Pipes using high-quality raw materials and latest technology. The 16Mo3 seamless pipe as chromium-molybdenum alloy steel at elevated temperatures is primarily used in oil refinery piping, steam pipeline, and power plant projects, etc. We also supply these DIN 17175 Seamless Steel Pipes according to customers' requirements at market leading prices.
Chrome Moly 16Mo3 Pipes Specifications
Dimensions :
EN10216-2
Materials :
16Mo3
Size :
OD:10.2-711mm; WT:1.6-100mm; L:5.8m,6m,11.8m or random.
High Technical method :
Normalizing, Quenching and Tempering, Normalizing and Tempering.
Application :
used in the power plant boiler tubes, etc
Grade :
16mo3, (DIN 1.5415, UNS K11562)
CrMo 16Mo3 Pipes Equivalent Grades
| | | | |
| --- | --- | --- | --- |
| DIN,WNr | BS | UNI | ISO |
| 16Mo3 | 240 | 16Mo3 | P26 |
| | 243 | | TS26 |
EN 10216-2 16Mo3 Seamless Pipes Chemical Composition
16MO3
C
Mn
S
N
Cu
Si
P
Cr
Ni
Mo
0.12- 0.2
0.40- 0.90
0.01
0.012
0.30
0.35
0.025
0.30
0.30
0.25- 0.35
16Mo3 Steel Welded Pipes Mechanical Properties
16Mo3
Tensile Strength
(Mpa)
Yield Strength
(Mpa)
Elongation in
100-150 mm(%)
Elongation in
16 mm(%)
Max Thickness
(mm)
440-590
220-275
19
24
250
OTHER TYPES OF 16Mo3 Pipes
| | | | |
| --- | --- | --- | --- |
| » | 16Mo3 Steel Pipes | » | 16Mo3 Chromium-Molybdenum Pipes |
| » | Chrome Moly 16Mo3 Pipes | » | CrMo 16Mo3 Seamless Pipes |
| » | 16Mo3 Steel Welded Pipes Supplier | » | 16Mo3 CrMo Steel ERW Pipes Exporters |
| » | Chrome Moly UNS K11562 Seamless Pipes | » | CrMo 1.5415 Round Pipes Dealers |
| » | Alloy Steel 16Mo3 Pipes Distributor | » | CrMo 16Mo3 Electric Resistance Welded Pipes |
| » | CrMo EN 10216-2 Pipes Stockholder | » | 16Mo3 CrMo Electric Fusion Welded Pipes |